Chris Benvegna (lead guitar)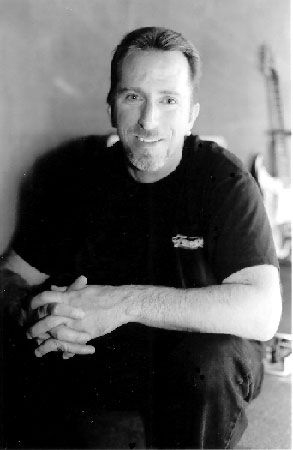 Born and raised in Queens, N.Y., Chris has been playing guitar since the age of thirteen. His influences growing up include everyone from Jimmy Page to Joe Satriani to David Gilmore. Chris is also a top graduate of Queen's College's nationally recognized music program and is currently teaching music at Polytechnical Preparatory School in Brooklyn, N.Y.

Chris' experience in the music scene is vast and varied. Some of his credits include his studies and performances with top, nationally known guitarist, George Bien, opening up for The Band at their reunion concert, Zebra and playing in the pit for a number of off Broadway musicals at such places as Long Island's well known Bayway Arts Center, and the Plaza Playhouse, N.Y.C.

Chris's playing has received high acclaim from such guitar legends as Dean Brown, who has toured extensively with David Sanborn, Marcus Miller and The Brecker Brothers. He has recently begun to study the Chapman Stick with LI Stickmaster, Steve Adelson. Chris brings a fusion of his amazing technical ability and beautiful melodic phrasing; This makes the songs in *Solstar* fully sing.


---
    Alice Kelly (Vocals / Percussion)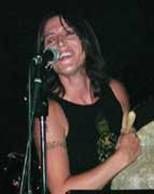 Born and raised in Dublin, Ireland, Alice grew up around a family and community of singers and musicians. From the age of 15 Alice was working with numerous cover bands on the Dublin circuit as lead & backing vocalist and playing rhythm guitar, percussion and an Irish drum called a Badhran (pronounced bowrawn). She has also done a number of recordings with a Dublin based folk band. At 20 she returned to school to study music production, promotion & management as well as classes in guitar, drums, singing and songwriting.

Having lived in America for the past 11 years, Alice has worked with a couple of Long Island based bands and is currently in the process of recording her own songs. She has worked with the production crew of many big name musicians both at Jones Beach Theatre and The Nassau Coliseum.

Alice likes to try her hand at anything and has now returned to playing the drums, her favorite instrument. She is influenced by many styles of music including Sting, Santana, KT Tunstall, Sarah McLachlan, U2 and many others. The list is endless.Alice brings a beautiful texture to the harmonic vocals and percussion of *Solstar*


---
    Mike Forgit (bass guitar) 




Mike has performed and recorded with numerous Long Island based top-40, blues, doo-wop and original bands and has opened for such well-known musical acts as The Good Rats, Gary U.S. Bonds, Zebra and The Platters. He has been the featured bassist in such world renound groups as The Drifters,  The Token's, The Thymes, The Skyliners, The Cookies, The Marcels, The Mystics, The Exciters and Lou Christie and Jimmy Beaumont's bands. He counts John Patitucci, Marcus Miller, John Paul Jones and Motown session man James Jamerson as some of his main influences on bass. Mike is the understated, melodic pulse of *Solstar*


---
    Patrick Carroll ~ (Bass)




Patrick has most recently played Bass on, programed drums for & engineered Lisa's eclectic/acoustic CD, *Sourcerer*.Based in New York, Patrick Carroll is quite simply one of the finest composer/producers around. His list of credits is a virtual who's who of the world's biggest names, past and present.

Among many others, Patrick has appeared on recordings with: Celine Dion, Lou Reed, John Secada, Marc Anthony, Be Be Winans, Mya, Elton John, Lionel Richie, Trisha Yearwood, Anastacia, Peter Andre and Barry Manilow.

In addition to working with such a stellar cast, Patrick's music has been heard on numerous TV stations. His themes have run on various Sports Shows including US Olympic Gold and ESPN, Chris Evert Celebrity Pro Classic, Pacific Life Open, and Wimbledon.

Several high profile commercials have featured his material. Currently airng on national television are commercials for Olive Garden, JIF, Ford, Hasbro, Mattel and Coke to name but a few.

Documentary work includes an eight-hour series for the History Channel ('To The Best Of My Ability' about all the US Presidents), Jack Nicklaus Memories and Maxim's Top 100. He is currently scoring a documentary for the BBC (with Adrian Zagoritis) about bat migration in Africa.